The energy costs for powering public school campuses is the second-highest cost for school districts in Minnesota, after payroll. The use of on-site solar to reduce energy costs will save districts—and potentially local property taxpayers—hundreds of thousands of dollars a year.
There are two tracks to the Solar for Schools legislation: one for school districts within Xcel Energy's territory, and one for schools outside it. The two tracks have each been appropriated $8 million for K-12 public school districts and $2.5 million for the Minnesota State Colleges and Universities system during the 2021 Special Session.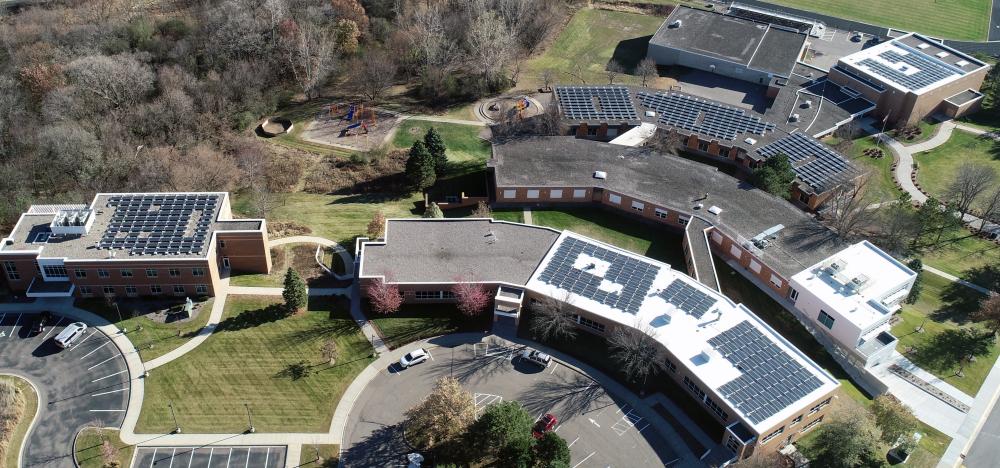 Image Courtesy of New Energy Equity
Guidelines for the program include:
The funding for schools within Xcel Energy's territory comes from the Renewable Development Account (RDA), which Xcel Energy pays into each year as compensation for storing nuclear energy casks on Prairie Island;
Schools outside Xcel Energy territory are funded by the General Fund;
At least 60% of the grants must be in low-income districts;
The solar installation must be used as part of the educational curriculum;
The system's production information must be made available with monitoring equipment across the school.
These requirements will provide excellent STEM learning opportunities, invigorate student interest in renewables, and demonstrate to parents and the community the power of solar energy.
Xcel filed its plan for its Solar*Rewards for Schools program on October 1st, 2021. MnSEIA and other stakeholders found that the initial proposed rates did not adequately compensate schools for the energy and renewable energy credits (RECs), and did not compare favorably to the existing PV Demand Credit Rider, which has helped many schools in Xcel territory to go solar. We advocated for a more fair rate that the legislature envisioned.
Ultimately, the Department of Commerce (DOC), which approves both Solar*Rewards for Schools and Solar*Rewards, agreed with MnSEIA and others that the program should have a more favorable rate than what was initially proposed. On December 20, 2021, the DOC made its final decision regarding the program: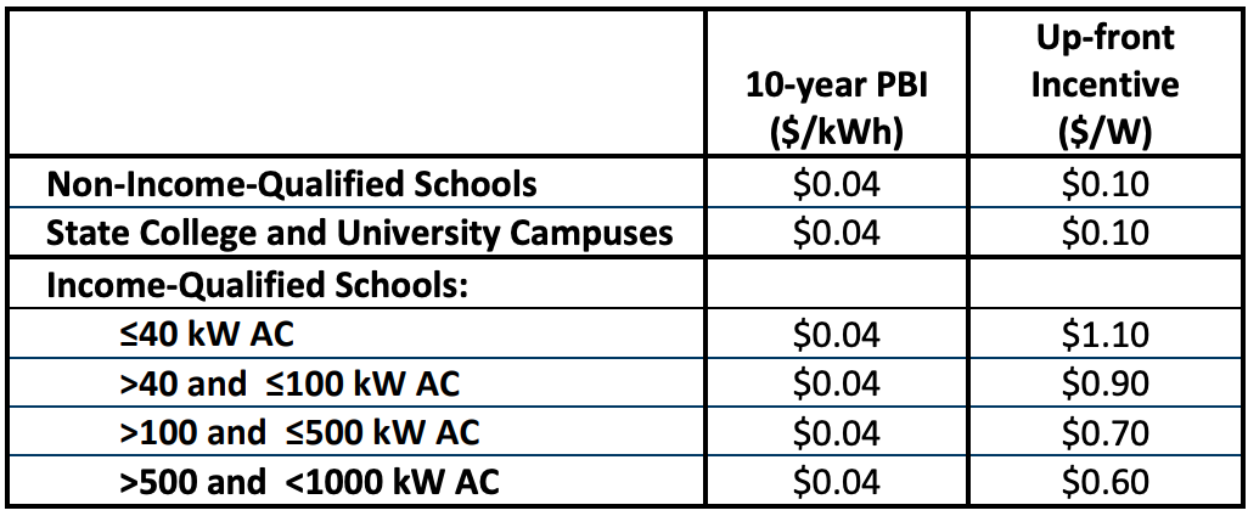 The "10-year PBI" in the table refers to a per-kWh production-based-incentive for systems up to 1 MW AC.
In January and February of 2022, stakeholders concerned that the PV Demand Credit Rider was incompatible with the Solar*Rewards for Schools program objected to Xcel's final compliance filing at the Commission. MnSEIA brought Xcel and stakeholders together to find an equitable solution. The resulting tariff allows for schools to participate in the PV Demand Credit after the 10-year incentive period expires. This result will allow for more financeable contracts for schools applying for the Solar*Rewards for Schools program, which went live in May, 2022.
The program for schools in non-Xcel Energy service territories is administered by the DOC, and will come in the form of grants for projects up to 40 kWAC. MnSEIA has continued to monitor these programs as they evolve to ensure they are implemented efficiently and equitably. The DOC grant program began accepting applications in January, 2022. In the first round of funding, applications were over 150% of the total program budget. The second round of funding, which is reserved for colleges and universities, opens July 1, 2022.
All in all, we expect that the combined $21 million in funding will create between 200-400 Solar for Schools projects across Minnesota and a resulting 250-300 solar jobs. We're very grateful for the bipartisan support this bill received and our members, partners, school and student allies, and many others who helped make this bill a reality!
Resources:
We Share Solar is a great program to meet the educational requirement of Solar for Schools. We Share Solar equips middle and high school students with real world equipment to build fully operational solar electric systems, called Solar Suitcases, that can be deployed to people in need of access to electricity around the world. Teachers can train in advance or experience the program concurrently with their students through the online learning program.
Interested in powering a school with solar near you? The Clean Energy Resource Teams (CERTS) website has a helpful step-by-step guide for bringing solar to your school district along with fact sheets, interactive tools and maps, and more resources.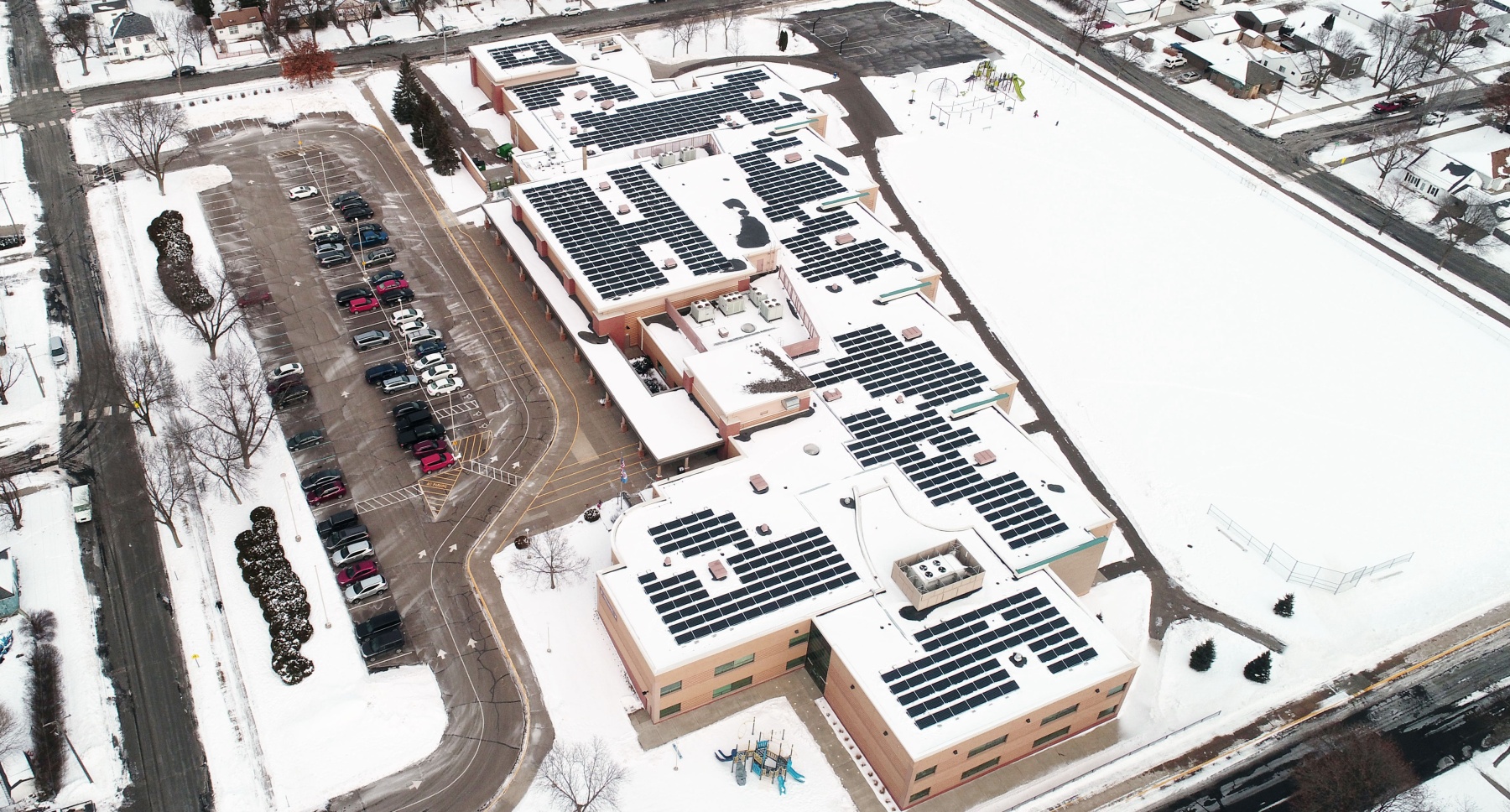 Image Courtesy of New Energy Equity