FOR IMMEDIATE RELEASE May 31, 2018  
The Minneapolis Solar Co-op has selected Solar Farm to install solar panels for the 27-participant group. Solar co-op participants selected Solar Farm through a competitive bidding process over five other firms. The group will hold its final public information session June 20, 7 p.m. at Clare Apartments (929 Central Avenue, NE, Minneapolis) to educate the community about solar and the solar co-op process.  
"It is an honor to be selected because we know how thoroughly they reviewed each bid," said James Darabi, Solar Farm owner. "We are eager to help more people go solar by providing quality panels at a good price." 
Solar United Neighbors expands access to solar by educating Minnesota residents about the benefits of distributed solar energy, helping them organize group solar installations, and strengthening Minnesota's solar policies and its community of solar supporters. The Minneapolis group is the first solar co-op to get to the state of choosing an installer. Solar United Neighbors is also working with communities in Apple Valley, Bemidji, Kandiyohi, Mahtomedi, and Rochester to develop solar co-ops.  
Solar co-op participants selected Solar Farm for their high quality equipment, product warranties, and competitive prices. "I was on the committee that evaluated the proposals from the various companies," said Larry Etkin, a Minneapolis Solar Co-op participant. "I think the evaluation process was thorough and effective. I'm convinced that we selected a solid provider at a good price, and that our co-op participants will get the bang for their bucks that they've hoped for."
The solar co-op is open to new participants until July 31. Minneapolis and St. Louis Park homeowners interested in joining the solar co-op can sign up at: solarunitedneighbors.org/minneapolis. The solar co-op is free to join and is not a commitment to purchase panels. Solar Farm will provide each solar co-op participant with an individualized proposal based on the group rate. By going solar as a group and choosing a single installer, participants can save off the cost of going solar and have the support of fellow group members and solar experts at Solar United Neighbors. 
Solar United Neighbors supports solar co-ops across the country. These co-ops are a part of the organization's mission to create a new energy system with rooftop solar as the cornerstone. Solar United Neighbors holds events and education programs to help people become informed solar consumers, maximize the value of their solar investment and advocate for fair solar policies. Those interested in supporting the organizations' work and becoming a member can do so at their website. 
Contact: Ben Delman 202-888-3602 ben@solarunitedneighbors.org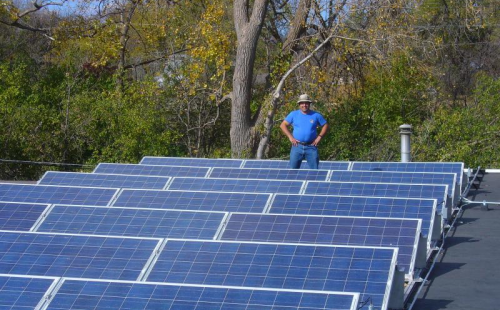 Image courtesy of James Darabi