Developing Solar on Schools in Minnesota: A Win for Students, Taxpayers, the Economy and the Environment
 MnSEIA and solar trade advocates highlight the vast opportunities that solar on schools present
Eagan, Minnesota [January 18, 2019] – The Minnesota Solar Energy Industries Association (MnSEIA) and member company IPS Solar educated fifth grade students about solar energy at Glacier Hills Elementary school this week in Eagan, Minnesota.
Solar business expert Eric Pasi of IPS Solar highlighted the industry's development of solar projects in schools and solar gardens across Minnesota with a solar snapshot. Students were interested to learn that the fastest growing job title in the United States is Solar Installer, with Wind Technician close behind. "Solar provides a triple-win opportunity for students, taxpayers, and the environment. It reduces expenses – often with no upfront cost – produces no harmful emissions and provides important 21st-century learning opportunities for students. There is a growing disparity between districts that have solar and those that do not," said Pasi.  
Youth Engaged in Renewable Energy Opportunities and Solutions
A bingo game tested students' impressive knowledge and understanding of solar in Minnesota. Notably most of the students at Glacier Hills Elementary are already clean energy buffs.
Youth awareness and interest in clean energy fossil fuel alternatives surpassed expectations. "When asked how many of the over 100 5th grade students have solar on their homes or are considering it, more than a third of the students' hands shot up enthusiastically. Such moments fill me with optimism for our renewable energy future," said Liz Lucente, Minnesota Solar Energy Industries Association Program Director. But there is work to be done to move from interest to installation.
Minnesota Policy Opportunities for Efficiency and Solar Development on Schools
The opportunity to speak with our youth about solar energy in Minnesota is no ordinary educational session. This effort supports a larger vision to: (a) spark interest in a winning solution to rising school energy costs paid by taxpayers; (b) increase interest in the renewable energy job sector; (c) support the economy with family supporting jobs; and (d) shape state policy to promote efficiency and development of solar on schools and public buildings.
Exploration of new ways solar energy can improve the affordability, reliability, and resiliency of the State's schools and other public infrastructure is underway at the Capitol in 2019. Bipartisan support of this issue could result in pilot studies and incentive programs that fund portions of school solar and efficiency improvement projects. This may include programs for Minnesota higher education facilities, which collectively owe over $40 million in energy bills each year.
Looking to the Future of Solar on Schools in Minnesota
Glacier Hills Elementary is a magnet school that excels in science and technology. Its educators understand the value of sparking interest in youth on clean energy opportunities, such as career development, on-site solar technology as a teaching tool, and potential energy cost-savings for schools and taxpayers that mitigates fossil fuel consumption. "Teaching kids about clean energy can lead to actions directly impacting energy affordability and reliability in students' communities," said Nicole Hosek, a 5th Grade teacher who focuses on clean energy educational curriculum at Glacier Hills Elementary.
Although Glacier Hills does not yet have a solar system on site, the opportunity to "walk the walk" on renewable energy is great. As of early 2018, the Minnesota Department of Commerce reported just over 145 K-12 schools had solar installations. "Solar installed on a school can serve as a blueprint and inspiration to other communities facing similar energy cost challenges. This is yet another way to serve our youth's growing interest in achieving carbon emissions reductions and doing more than just talking about it," said Jill Jensen, Glacier Hills IDEAS Coach (Inquiry, Design, Engineering, Art & Science).
The future is bright for the solar industry in Minnesota, and even brighter with Minnesota's youth leading the way.  
About MnSEIA
The Minnesota Solar Energy Industries Association (MnSEIA) is a 501(c)(6) nonprofit trade association with a mission to move Minnesota solar forward as part of the clean energy transition at the regulatory, legislative, administrative and policy arenas. MnSEIA is the voice of Minnesota's solar industry and is comprised of over 100 high-quality solar industry business members spanning all major solar industry sectors. Learn more at www.mnseia.org and follow us on Twitter, Facebook and LinkedIn.
About IPS Solar 
IPS Solar works to promote, design, and install high quality solar projects on schools across the State, and was among the State's fastest growing companies in 2018. IPS offers a renewable energy curriculum for interested schools and hosts quarterly educator workshops on the topic. As a MnSEIA member IPS Solar is one of several companies developing the commercial, industrial and public infrastructure sector in Minnesota, including solar on schools.  Learn more at https://ips-solar.com/.
###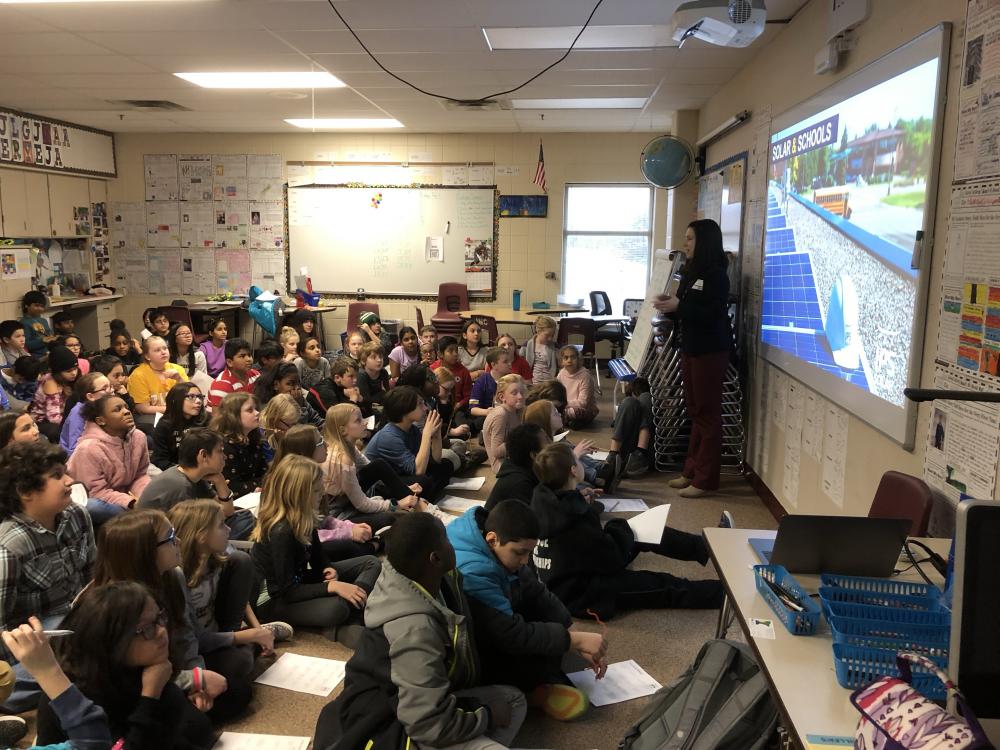 MnSEIA's Liz Lucente introduces Glacier Hills Elementary students to solar with IPS Solar